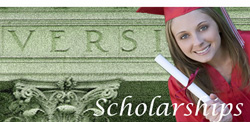 To be eligible for a Mountain Laurel Federal Credit Union scholarship, applicants need to be a member of Mountain Laurel Federal Credit Union. This means you have an account opened in your own name.
NOT A MEMBER YET?
Here's how Mountain Laurel Federal Credit Union membership can benefit you as you prepare for college:
Because members are part-owners of the Credit Union, profits go back to you, the account holder, rather than to a group of stockholders. These profits come in the form of higher savings rates, lower loans rates and less fees than you would find at most other financial institutions.
All you need to do is open a Savings Account with at least $5.25. Once you become a member, you can enjoy many services available. The following combination of services is popular with our college-age members: Free Checking Account with a MasterMoney® Debit Card. This combination is helpful because your parents can deposit money to your account as you need it, and you can access that money using your MasterMoney® Debit Card at ATM's or as a MasterMoney® debit purchase. The difference is, the purchase amounts will be deducted from your checking account, rather than being added to a line of credit that could charge high interest rates and fees.
Add free online access with Home Banking and you have instant access to your account balances and transactions. If you don't have online access you can still access your account free-of-charge, by using our Voice Response Unit(VRU) by touch-tone phone.
Share Certificates (CD's) are a great way to save for your long-term goals.
Visa Credit Card – Build credit for the future with responsible use. Member must be at least 21 years of age to apply for VISA or is able to document that he/she has an independent means to make the required minimum periodic payments or has a joint applicant over the age of 21 who is jointly or secondarily liable and has income sufficient to make the required payments.
For more information please call 814-834-9518, send an e-mail,or visit any Mountain Laurel Federal Credit Union locations.