OTHER PRODUCTS AND SERVICES
Money Orders
Wire Service
Cashier Checks
Voice Response
Payroll Deduction
Notary
CU Travel Money Cards
Direct Deposit
Love My Credit Union Rewards
Visa Gift Cards
Check Cashing
Auto Pricing
Discount Park Tickets
Night Depository
Account Reconciliation
VOICE RESPONSE
24/7 ACCOUNT ACCESS FROM YOUR TELEPHONE!
Voice Response Unit or VRU is a convenient way to access information about your accounts at Mountain Laurel FCU. Voice Response is your Credit Union's 24 hour Teller. This service provides Credit Union members access to their accounts 24 hours a day, 7 days a week without coming into the Credit Union. Check your balance, learn if a check has cleared or monitor account activity 24 hours a day by calling (814) 834-4874 or Toll Free at 1-877-286-5328.
To access your account, you will need your member account number and a personal identification number (PIN) to be assigned from the credit union. Just follow the member-friendly prompts and you'll be able to access information on all your share and loan accounts. You may also make share to share transfers and make loan payments. If you would like to sign up for this service, please contact your local branch office to be assigned a PIN.
DIRECT DEPOSIT & PAYROLL DEDUCTIONS
SAVE TIME WITH DIRECT DEPOSIT
Are you tired of standing in line at the Credit Union? Sign up for Direct Deposit. All types of checks can go directly to your account such as Social Security, payroll, unemployment compensation and tax refund checks to name a few. Mail safety is one aspect to consider, convenience is another. Should you be away from home for any reason, your money is safely and efficiently deposited. For those who receive a weekly check, this is the way to save your valuable time.
To sign up for a direct deposit simply give the depositing institution a voided check or a direct deposit form from the Credit Union. If share savings is your only account, call the Credit Union for the correct information needed to setup your direct deposit.
CUMONEY CARDS
VISA TRAVELMONEY RELOADABLE CARD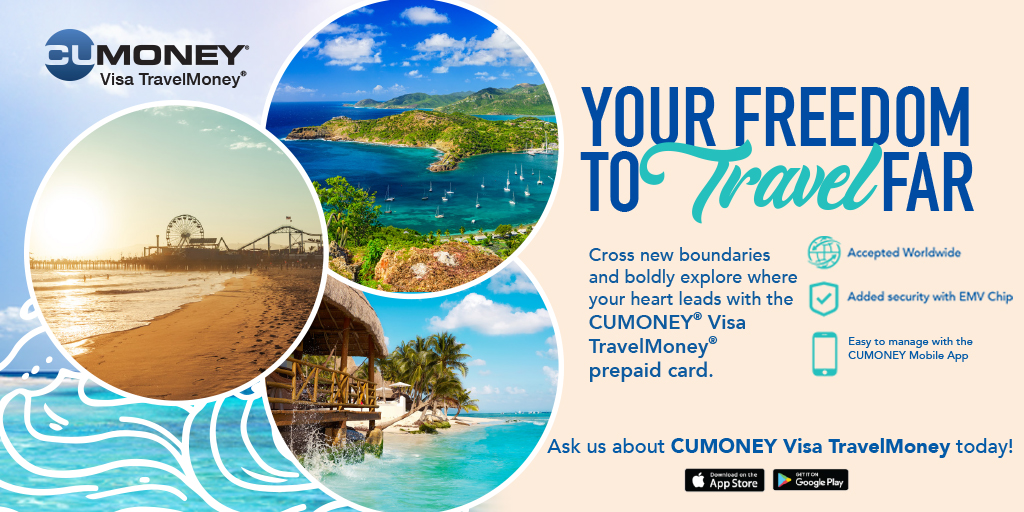 Wherever your plans take you, from across the street to across the globe, the Visa TravelMoney Prepaid card provides all the convenience and security you need.
VISA GIFT CARD
A Visa Gift Card is perfect for any special gift-giving occasion, including holidays, birthdays, graduations, or weddings. Cards may be used anywhere Visa is accepted. 
Visa Gift Cards may be purchased at any of our branch locations using cash or with funds transferred from any Mountain Laurel FCU account (checks will be accepted for payment).
Visa Gift Cards are available for purchase at $2.95 per card.