HOME EQUITY LOANS
Borrow affordably by using the equity in your home. Home equity rates are typically lower than personal loans and the interest may be tax deductible. Get a closed end Home Equity Loan with terms to suit you.
To apply for a Home Equity loan, you can visit one of our seven locations, or call us for an application.
---
MORTGAGES
COMPETITIVE MORTGAGE FINANCING FROM THE CREDIT UNION YOU TRUST

Buy the home of your dreams with a low rate mortgage. We offer fixed rates to purchase or refinance your home. Rates change often so check with your representative. Our low closing costs allow you to spend more on your home.
Mountain Laurel FCU in partnership with OwnersChoice, is pleased to announce our mortgage financing program. Whether you're purchasing a home or refinancing your mortgage, you can look to us for trusted advice and exceptional service.
Our mortgage program features:
a secure online application process;
expanded loan programs;
low interest rates and closing costs; and
expert support and assistance throughout the entire process.
All MLFCU mortgage loans are serviced through OwnersChoice, a full-service mortgage corporation serving credit unions in the greater Northeast.
If you are looking for competitive mortgage financing from a lender you can trust, stop by your local office, contact us at 814-834-9518 or to apply for a mortgage, you can visit OwnersChoice Funding.
MORTGAGE & HOME EQUITY RATES
Loan Type
APR*as low as
Term
Home Equity
Rates are for 1st Lien only. Please contact CU for 2nd Lien rates.
5.75%
5 Year
6.50%
10 Year
7.00%
15 Year
Mortgage Loans
Varies
15, 20 & 30 year
NMLS ID# 422133 (*)APR=Annual Percentage Rate - Rates and Terms are subject to change without notification.
To apply for a Home Equity loan, you can visit one of our seven locations, or call us for an application.
To apply for a Mortgage, you can visit OwnersChoice Funding.
---
TruStage™ Home Insurance Program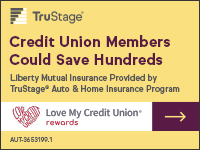 Exclusively for credit union members like you, the TruStage Home Insurance Program provides affordable top-quality protection for your home.
This valuable coverage can help you protect your family's home and personal belongings. You'll also have access to outstanding online and 24/7 claim services.
Get your free quote today or call 1-855-483-2149.
TruStage™ Home Insurance program is offered by TruStage Insurance Agency, LLC and issued by leading insurance companies. Discounts are not available in all states and discounts vary by state. The insurance offered is not a deposit and is not federally insured. This coverage is not sold or guaranteed by your credit union.
MAH-1112-61C5
---
LOAN CALCULATORS
HOME EQUITY
Home Equity Debt Protection is available to borrowing members at a reasonable cost. This protection covers loss of life, transitional loss of life, disability, and involuntary unemployment. Ask a CU Rep. for more information.
Home Equity Loan Calculator
NMLS ID# 422133