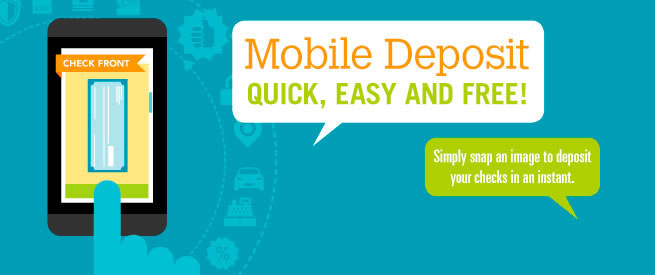 Quick, Easy and Free! Mobile Deposit is finally here!!

Depositing checks is now quicker and easier than ever before. Sign up and take advantage of mobile deposit from Mountain Laurel Federal Credit Union and deposit checks from home or on the go with a simple snap of a picture from your mobile phone!
Mobile deposit is:
Convenient: Use your smartphone to deposit checks anytime, anywhere. Members must have the Mountain Laurel FCU app downloaded on their smartphone.
Easy – Tap the app, point your smartphone, snap a picture and complete the deposit.
Secure – Be confident knowing mobile deposit is as safe as depositing checks at one of our branches.
Free – Save time and money with this free service!
Mobile deposit is a service that you can sign up for within the Mobile Banking smartphone apps. With Mobile Deposit you can take a picture of the front and back of a check with your smartphone and remotely submit the check for deposit.
Mobile deposits submitted Monday – Friday prior to 2:00 P.M. ET, if approved, will generally post by 2:30 P.M. ET. Mobile deposits made after 2:00 P.M. ET or on weekends or holidays, will post the next business day. This is not an instant process. Checks will need to be approved before they will be deposited.
Mobile deposit limits are as follows:
Maximum single check amount is $1,500.00
5 deposits/checks per day with total deposits to not exceed $1,500.
10 deposits/checks per week with total deposits to not exceed $2,500.
15 deposits/checks per month with total deposits to not exceed $5,000.
Checks MUST be endorsed with a signature AND "For Mobile Deposit Only MLFCU". If it is not endorsed this way, your deposit will be rejected.
Is there a cost to use mobile deposit?
The credit union does not charge members to use our mobile banking service. However, depending on your mobile phone data plan, your wireless provider may charge for Internet access. Please confirm the parameters of your data plan with your wireless provider.